You heard the name "Goram ghat" and started searching on google what is goram ghat? Goram ghat train timings?  Well, today in this post I am going to clear your all doubts about Goram ghat. Don't worry I already visited Goram ghat 2 years ago on 15th August 2017 and my experience was awesome. Simply I want to share my Goram ghat experience and goram ghat train timings with all of you so you don't get any trouble there.
Check Goram Ghat 2019 Photos
What is Goram ghat? History of Goram ghat.
Goram ghat is one of the most beautiful places in Rajasthan. It is situated near to Kachhbali village, Deogarh, Rajsamand district of Rajasthan. It's a local train station was built in 1932 by the Englishmen along with the help of former Mewar's Maharana. It is a very popular place for a group picnic, family tour, a solo traveler in Rajasthan.
This place is connected with wildlife and situated in Aravali Hills, nature and small waterfalls and It is a wonderful place for nature photographer & wildlife lover, there is a 50 feet wide waterfall called "Jogmandi Waterfall" with a distance of 500 meters.
Goram ghat Train Timings
There is no direct train from Udaipur to Goram ghat, You have to take the meter gauge train from Marwar Junction to Goram Ghat Marwar i.e Mavli Pass Mg (52073) and it runs on every day of the week. timings Departure 06:35 am and reach 11:21 am. I have added some of the best places to visit in Udaipur city.
You can pick up the train from Khamli ghat railway station directly as it is the last railway station to visit Goram ghat. But there is a possibility that you don't get any seat on the train as so many people to pick the train from Khamli ghat station. We took the train from Bejnal village which is nearest to us and fortunately, we got enough seats for our family. I listed all the information about goram ghat train below. You can book your tickets here.
Train Ticket from Khamli ghat to Goram ghat – 10 Rs.
Train
Timings of Boarding the Train
Boarding time from Khamli Ghat Station is 10:00 am.
Boarding time from Goram Ghat Station is 12:30 pm.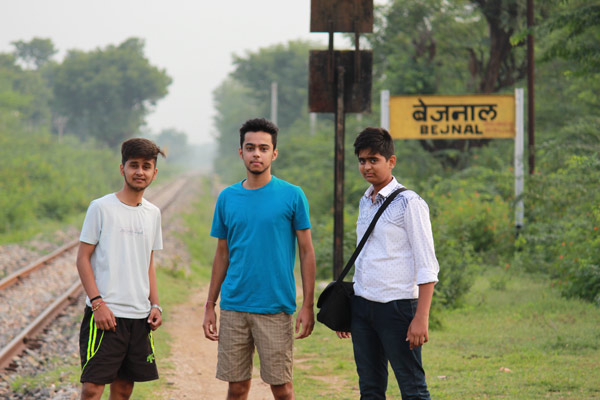 Important Note – Currently Goram ghat train Timing has been changed. Arrival timing of the train was 4 pm before but now it is 12:30 pm. So you get only 1 hour to spend there. 
Khamli Ghat to Goram Ghat
Mavli to Goram ghat Train
Jodhpur to Goram ghat Train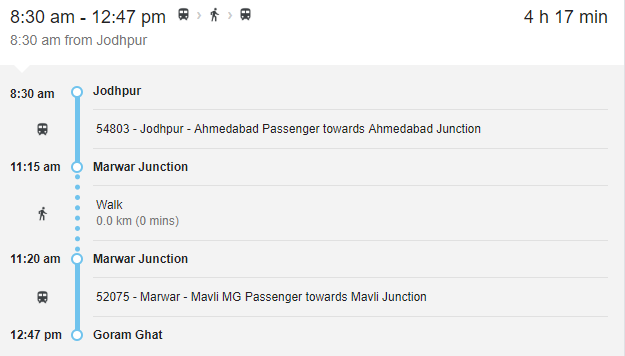 Goram ghat to Khamli ghat to Mavli
Food & Hotel Facility in Goram ghat?
There is no restaurant or hotel there. There are no changing rooms. When I visited there was only one shop where you can buy biscuits, chips, water, tea, and other items. You can't expect any major food there. You have to carry your food yourself. People used to buy biscuits to feed the monkey's but please don't throw wastage items there. There were so many people who were throwing garbage items everywhere on the railway track and even near the waterfall.
Unbelievable Scene of  the Train
No, I am not making you afraid of this journey but it's true. On holidays you may experience this type of scene. I don't think it's a correct way to travel somewhere but it's India and anything is possible here. It's current season photo. (2019)
Jogmandi Waterfall
There is only one waterfall called jogmandi waterfall which is 50 feet wide. You can see the waterfall once monsoon has completely arrived. We were lucky so we enjoyed the waterfall as much as possible.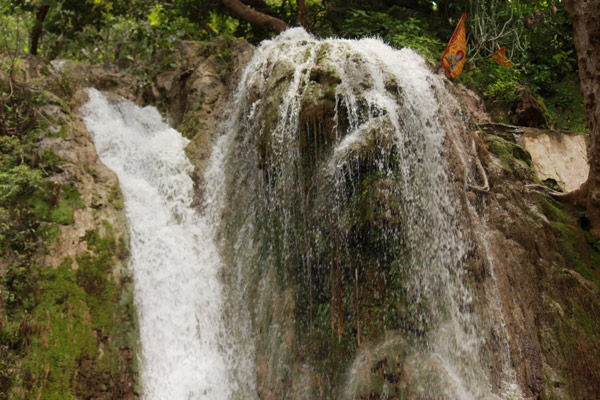 Temples to visit
There are several temples also that can be visited at Goram Ghat including Temples of Gorakhaath Ji, Lord Shiva, Bheru Nath Ji, Heenglaaj Mateshwari, Peepleshhwar Maharaj, etc.
Goram Ghat Whether
I recommend you to visit goram ghat in monsoon (July to September) but better to check goram ghat whether officially here.
Best time to Visit
The monsoon season is the best time to visit Goram ghat as you can enjoy the beauty of nature in the rainy season.
July to September (Monsoon).
Watch my Journey